CNN
I led the design of various interactive and projects at CNN Digital while employed there from 2009 to 2013.
CNN Digital Video Experience
From 2010 to 2013, I led the visual and interaction design of the new premium digital video destination at CNN.com. An immersive experience focusing on the delivery of large high-definition video, it also allowed for the simultaneous discovery of editorially curated video content and marked Turner's first move toward letting cable and satellite subscribers stream a live TV broadcast across devices.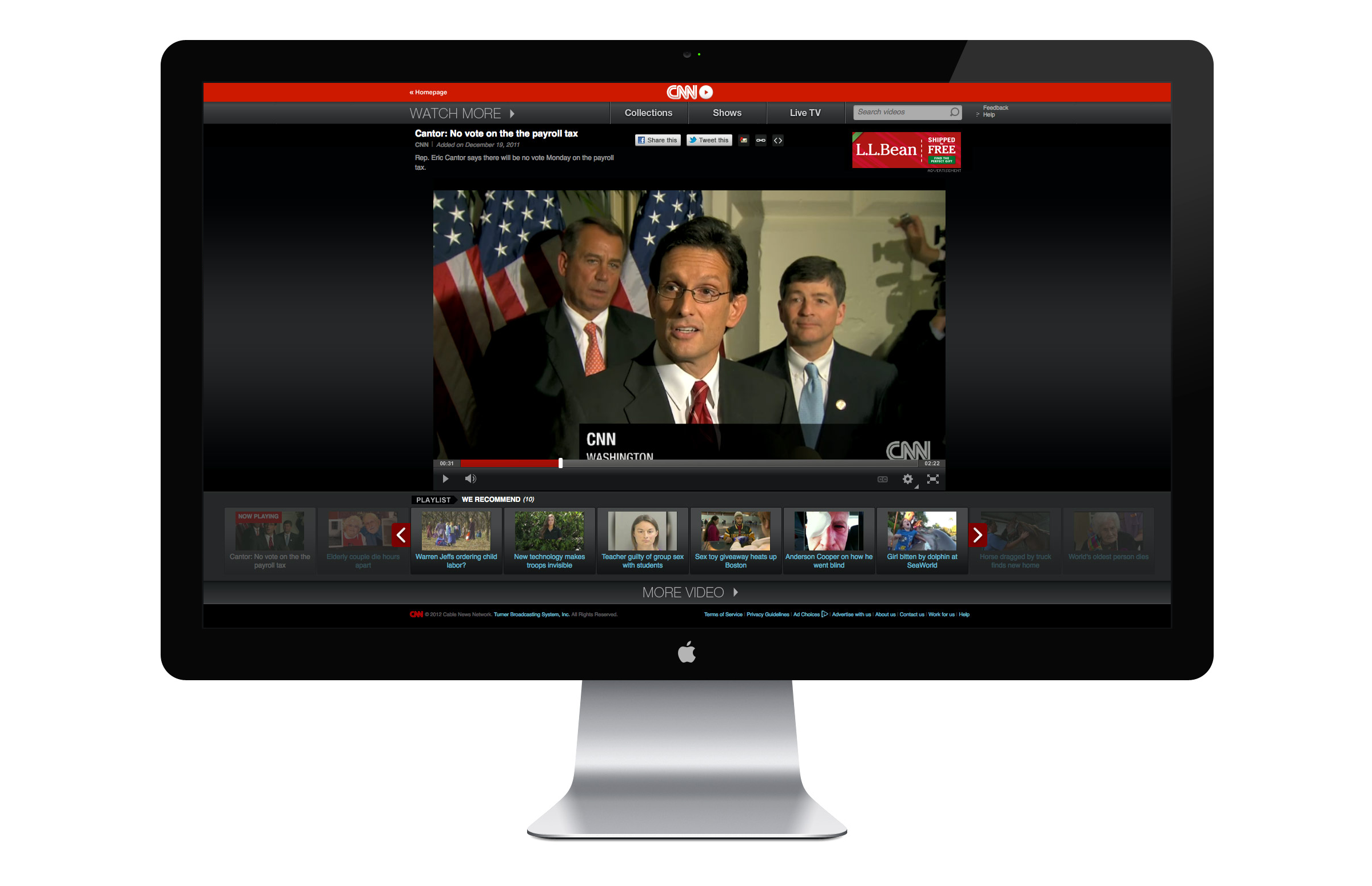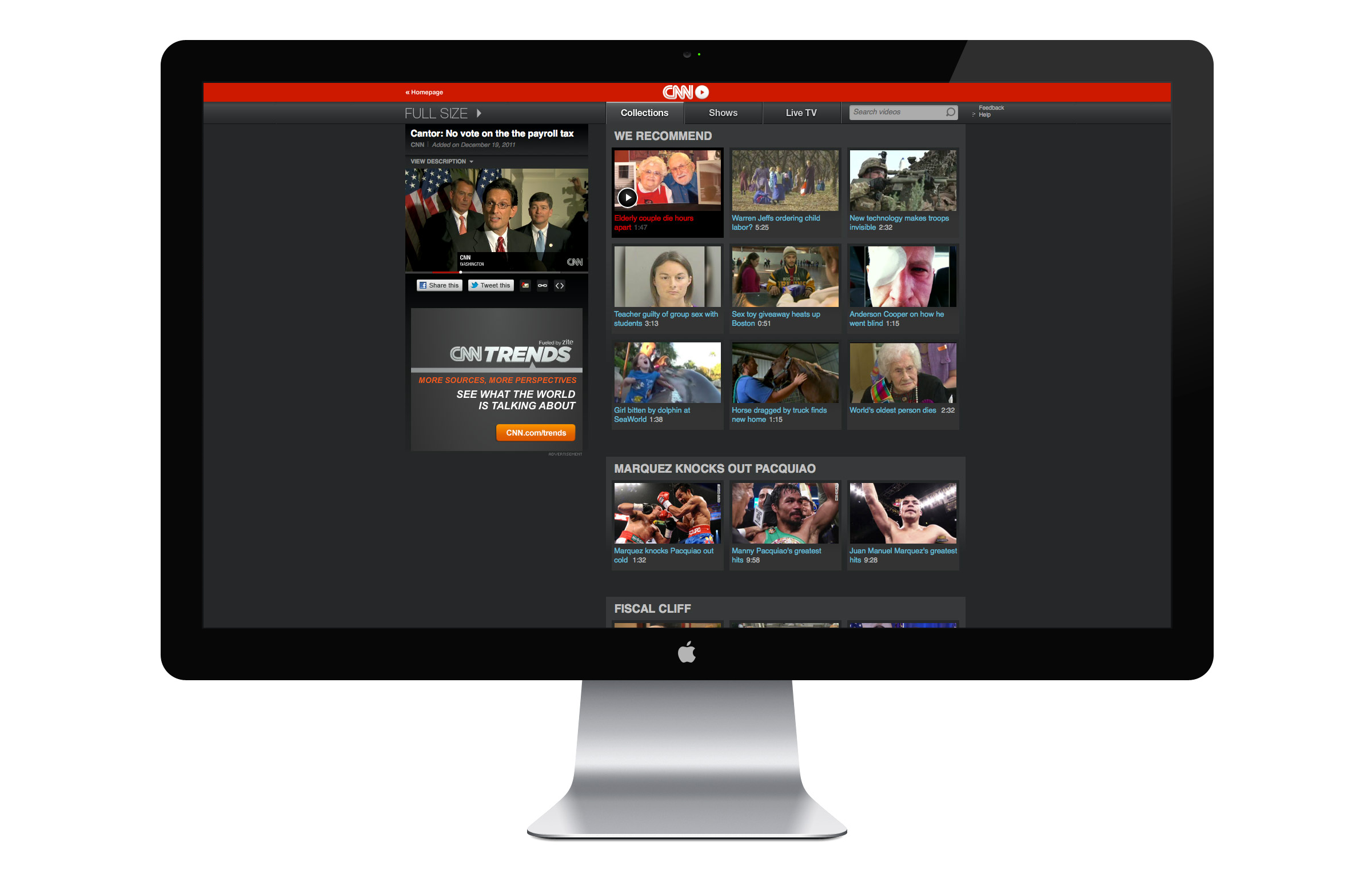 Desktop Experience
The key challenge in designing the desktop experience on CNN.com was finding a way to give users the ability to watch and browse videos simultaneously. After designing a number of concepts and implementations, we eventually settled on a solution that involved two modes: a cinematic view and a browse view. In cinema mode, the focus was the large, high quality video player and the currently active playlist. In browse mode, the user could select videos from a number of editorially curated playlists while the active video played in a smaller, docked player. Tabs at the top allowed users to view different categories of content.
Core Video Player
In tandem with the redesign of CNN.com's video page, we redesigned the player to be fluid based on the user's browser window size. We created a simpler, bolder set of controls and integrated closed-captioning and video quality settings. We then expanded this player to work in live experiences featured on the CNN.com homepage and in embeddable players.
iPad App Integration
As part of TimeWarner's broader 'TV Everywhere' initiative, we integrated CNN and HLN's authenticated live TV streams into the existing CNN iPhone and iPad apps.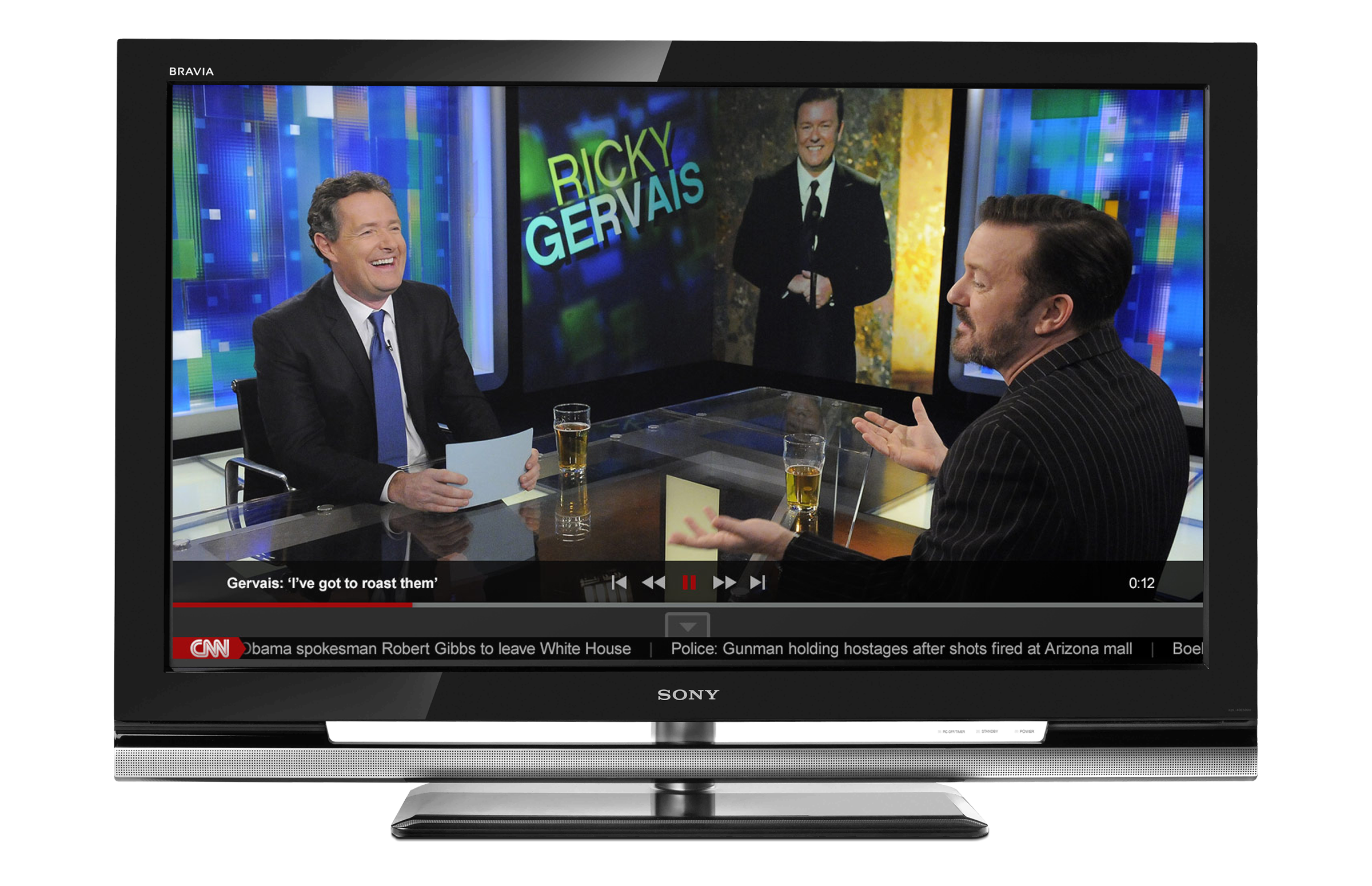 GoogleTV
CNN also took the opportunity to explore the then-new Google TV. We created a simple 10-foot interface that presented users with a small set of popular and editorially curated videos and the headlines of the day.
I led a re-branding and redesign of CNN's digital politics, entertainment, and tech coverage in 2010. The stated goal was to create a set of independent destinations for niche news coverage. The endeavor necessitated an overhaul of each section front on CNN.com as well as the CNN Political Ticker and The Marquee Blog.
I led the design and branding of CNN Trends, which was a news trending engine powered by the technology behind Zite. CNN Trends would surface the top ten trending news topics from around the web. Each topic was anchored by a CNN story and included stories from other reputable sources, giving users a well-rounded picture of the news of the day. The design was meant to bridge the gap between CNN's existing site design and that of Zite's upcoming mobile and tablet designs.
Indie Asia: On Tour With Handsome Furs
CNN partnered with Sub Pop Records to create a series of videos chronicling the indie rock duo Handsome Furs' travels through Asia. Armed with flip cams and notebooks, Dan and Alexei guide viewers through the indie music scene in various Asian countries.
All images Copyright © 2011 Cable News Network. Turner Broadcasting System, Inc. All rights reserved.